"This man has the gift." 
...So said the late Utah Phillips, legendary figure in American folk music, after hearing Richard Berman sing at the Kerrville Folk Festival's Ballad Tree in 1992. And Richard has used that gift to write many songs that tell moving, true stories. "Gil's Song", the song that prompted Utah Phillip's appraisal, and is included on his first CD, Bittersweet, is the tale of a Wyoming sheepherder's one brief attempt at closeness and its consequences. Humor, too, is part of Richard's performance, as in "Monopoly", his first-person account of the power of that game on behavior, and "The Kids Are Back", his take on the latest stage in family development, both songs from Richard's second CD, Love Work and Play.
Love, Work and Play
Richard Berman
His third CD, Dreamer, included his first songs of requited love, "A Love Song" and "Here And Now", and the haunting "The Fortune Told". Both Love, Work and Play and Dreamer were chosen "One of the Best Folk Albums" of 1996 and 1998, respectively, by Rich Warren, host of "The Midnight Special" on WFMT in Chicago, the longest continuously running folk radio show in the country. Richard's 4th CD, Storied Lives, won the 2001 Just Plain Folks Award for "Best Traditional Folk" CD. It includes the memorable, ironic story song "On the Mexican Coast", a song featured on the compilation disks Artists for Change and Songs for a Better Planet, Volume II.  2005 saw the release of Holding Hands which was chosen one the "Top Ten Albums" of the year by Maggie Ferguson of WXOU and one of the eleven "Essential CDs" of 2005 by Bill Hahn of WFDU. 
Born in Brooklyn, New York, Richard left the city to go to college in Ann Arbor, Michigan. He has lived most of his adult life in Amherst, Massachusetts with his wife and two children. Richard received an MSW and worked as a therapist for years with children and families. He has also taught as a classroom teacher in the Amherst public schools. Drawing on his experiences as a husband, therapist, teacher, father and son, he has written songs that impart his understandings of people and their situations in direct and compelling ways.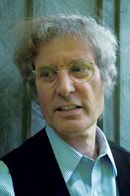 Richard first received national recognition in folk circles for his work by winning the 1992 Napa Valley Folk Festival's Emerging Songwriters Contest. He went on to win the 1995 South Florida Folk Festival's songwriting contest, was selected to showcase at the 1997 Falcon Ridge Folk Festival and was chosen to do so again in 2001. In 1999 Richard won the Sierra Songwriters Festival's songwriting contest. In 2000 he was a finalist at The Wildflower Festival's songwriting contest, the winner of the Rose Garden Coffeehouse Songwriting Contest and was a finalist in the Kerrville Folk Festival's New Folk songwriting contest, a selection that was repeated in 2001. In 2003 he won the Susquehanna Music and Arts Festival's songwriting contest. During his years performing, Richard played at coffeehouses, clubs, festivals and house concerts in the Northeast, the Southwest, and California, and toured in Ireland, England, Wales and Sweden. Among the clubs he has played at is the Bluebird Café in Nashville, TN, where he was selected to showcase in 1994 and came back to play again in 1996, 1998, 2001, 2005, 2007, and 2009. Richard recorded his sixth CD, Now and Then in 2008. In 2012, Richard was stricken with a serious autoimmune disease and has only performed on one weekend in the many years since. Although unable to go on the road he made You're Home Now in 2014.